Santinelli Nidek Edgers For Sale
Are you looking for a new Santinelli Nidek Edgers that will look and run like new?
Every Santinelli Lens Edger sold on consignment through the Finishing Lab has been completely refinished and looks and runs like new. We offer a warranty, installation services and training for all our edgers.
Unlike others, the machine displayed in the pictures is the machine you're purchasing!
Currently Available Santinelli Nidek Lens Edgers
---
Used Santinelli Nidek LE-9000EX Express Edger with ICE-9000 Blocker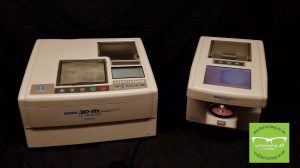 Cut Count: ONLY 17,460 Cuts
Condition: 95%
Operations: 100%
ICE-9000 Blocker: 100% (NO Nidek block kit included)
Accessory Kit: NO
Direct Water System: 100% (Included)
Other: LE-9000 & ICE-9000 Operational Manual (PDF also available)
Please call or email for pricing!                                                                                                                                                                                  
Learn More About this Santinelli Nidek LE-9000EX Express Edger with ICE-9000 Blocker

About the LE-9000EX Express Edger
The Santinelli Nidek LE-9000EX offers faster processing and edging. It comes with a direct drive wheel motor and it's robust engineering and construction makes the machine extremely reliable. It offers a seamless intergration with any ICE Blocker and is overall very simple to use.
Fully Automatic: Nidek's SX series of patternless edgers provides automatic SFB and grooving, with a new multidisk arm that grooves and SFB in one operation. The optimal chamfering amount can be set by selection of chamfering parameters. Grooving is achieved automatically with pin-point accuracy.
Mirror Polish: LE-9000's "Mirror Polishing" produces mirror-like lenses.
Accuracy: Rimless and half rim lenses can be polished extremely precisely with
no additional buffing time required. The LE-9000SX PLB
provides easy and accurate bevel mirror polishing.
High Quality: The newly developed 3D tracing & lens measurement feature provides
accurate frame and lens measurements, ultimately offering a
perfect finish. Thirty-two thousands data points per processing round
ensures a precise fit.
Frame Memory: One hundred framed shapes can be stored in memory, and with the
optional bar-code reader, up to 500 shapes can be stored. This
improves efficiency, saves time and storage space.
Flexible & Versatile: The LE-9000SX can process any type of lens materials including glass, plastic, polycarbonate, acrylic, and high index plastic lenses in order to meet your customers needs.
About the ICE-9000 Intelligent Blocker
The ICE-9000 is a revolutionary blocker and tracer combination that reads single vision and bifocal lenses, as well as printed and pre-identified laser marks on progressive lenses, increasing workflow and saving time. Compared to conventional blocking which requires operator involvement, the ICE-9000 blocking arm moves in both the X and Y direction automatically. The block-head also rotates (theta rotation) for blocking lenses on 180 degrees axis. The system's exceptionally accurate tracer digitizes an unprecedented 32,000 points of reference per eye.
Featuring an integrated ALM (Auto Lens Meter), the ICE-9000 enables lens blocking without having to mark and center lenses, simplifying the process and increasing accuracy. Therefore, the operator need only insert the lens and the ICE-9000 takes over, automatically blocking any lens with great precision. The high-resolution, color display touch screen can be used to enter job codes easily, reducing human error and resulting in precise blocking.
The ICE-9000 is a highly intuitive instrument which auto-aligns bifocals and progressives. In addition to being VCA compliant, the ICE-9000 can interface with other software and all edger's seamlessly. This is an exciting product, offering eyewear professionals the best in tracing and blocking equipment. The ergonomic, compact size is the perfect complement to the LE-9000EX Express Edger, meeting the limited space needs of many labs.
Features and Benefits
Built-in Tracer: The NIDEK ICE-9000 incorporates a tracer into the main console and boasts the smallest footprint in the world. Available with or without the tracer.
Intelligent (X direction / Y direction / rotating) Blocking
ALM (Auto Lensmeter) Function: The virtual lensmeter marks are displayed on the screen, allowing it to be blocked with exceptional precision.
Fast and Precise 3D Tracing: The ICE-9000 provides precise tracing in all three dimensions. Color Touch Screen for optimum ease of use. Suitable for both small and large-scale edging systems.
Technical Specifications
Blocker:
Lens Size: 80mm diameter (maximum)
Layout Modes : Single Vision Lens (two modes); Bifocal Lens; Progressive Lens (two modes); Manual Mode
Blocking Method : Motorized Blocking
Tracer
Tracing Methods : Automatic 3-D Binocular Tracing
Measuring Points : 32,000 reference points per eye
Frame Clamping : One-touch automatic clamping
Dimensions : 12.3″W X 18.8″D X 12.9″H
Weight : 41.9 pounds
Accessories Included.
---
Used Santinelli Nidek ME-1000 Design+ Edger Only
Cut Count: 31047 Cuts
Condition: 95%
Operations: 100%
Accessory Kit: 100%
Blocker: NO
Direct Water System: 100% (Included)
Pliable Cup Blocks: 0
Pliable De-Blocker: NO
Other: ME1000 PDF Operational and Install Manual
Please call or email for pricing!
Learn more about this Santinelli Nidek ME-1000 Design+ Rimless Edger
Santinelli Nidek ME-1000 Design+ Edger Only
This machine is designed to process elaborate cuts of highest quality. The integrated functions such as the Shape Editor, Hole Creator, Design Cutter and Partial Groover help you produce even the most challenging lenses.
Hole Creator: Use the touch screen to place holes on the lens in the desired location by simply dragging and dropping the icon.
Shape Editor: Change the lens size as needed and magnify the details by up to four times for a more precise design.
Design Cutter: Allows you to freely adjust the shape of a lens for unique cuts.
Partial Groover: Enables you to easily produce rimless lens designs.
---
Used Santinelli Nidek LEX-1000 Edger and ICE-Mini Blocker
Cut Count: 29xxx Cuts
Condition: 95%
Operations: 100%
ICE-Mini Blocker: 100%
Accessory Kit: 100%
Direct Water System: 100% (Included)
Pliable Cup Blocks: 12
Pliable De-Blocker: NO
Other: LEX1000 PDF Operational Manual and Install Manual
Please call or email for pricing!
Learn more about this Santinelli Nidek LEX-1000 Edger and ICE-Mini Blocker
Santinelli Nidek LEX-1000 PLB8 Rimless Edger
Nidek's new LEX Lens Edger Series features the highly intuitive LEX-1000 Edger, engineered with the most advanced technology available on the market. Its unique functions enable eyecare professionals to confidently handle even the most challenging jobs in-house to increase profits. It's the world's first retail edger to make glazing high base curve lenses simple.
Features:
Minimum B measurement of 15.5mm for today's smaller frames
Minimum 15.5 mm "B" dimension can be processed with the new Nano Cup/Block. You can process super hydrophobic lenses without worry about axis shift with the use of the new pliable ring adapter
Built-in fully programmable and adjustable high curve beveling
Bevel set position can be put to front, rear or any position and ratio
Can glaze up to 10 or 12 base lenses
Grooves, safety bevels and polishes
Cuts all lens materials
Advanced soft grinding mode for processing super hydrophobic coats without the risk of slippage
Five different system configurations, representing the widest array of choices available in the market.
Add on Drill: upgrade your system to rimless glazing at any time of your choice with the retro-fit LEX Drill.
High-quality drilling: 3D drilling from 0 to 30 degrees made easy, even challenging drilling such as twin holes, slots, rectangular holes, jewel holes or countersunk holes.
Slim design: at only 14.5cm wide the LEX Drill can fit into the smallest of Laboratories or Workshops.
Operation:
Information Bar: Even first-time users can easily operate the LEX1000 using the Information Bar which provides useful "next-step" information.
3-D Bevel Simulation: Sophisticated 3-D bevel simulation allows you to check the placement of the bevel as if viewing the actual lens from any selected angle.
Color-coded Lens Identi
About the ICE-Mini Blocker
Blocking is easy and quick. For accurate and easy blocking for the operator, the 3-pin support lens is flexible and holds the lens from the top. The user-friendly color LCD touch panel is 8.4-inch and is easy to operate and offers clear display. Networking capability is versatile and the direct connection to the 2 lens edger is easy for the ICE mini. Blocking is as easy as 1-2-3 by the NEW ICE-Mini from NIDEK.
Step 1: On the table simply place the marked lens.
Step 2: Input all data on the LCD touch panel such as the type of lens, frame, grinding mode and the data of the lens layout that includes PD, FPD, size and height of optical center is the data to be input.
Step 3: Block with blocking arm.
Color-coded Lens Identification: To aid the lens edging process, the display of the Lex1000 utilizes a color-coding system adapted from navigational light colors, to identify right and left lenses: green represents the right lens and red represents the left lens. Red and green cups (blocks) are included. You can avoid processing the wrong lens by following the color-prompted indicator on the display.
---
Remember: All Santinelli Lens Edgers for sale by the Finishing Lab have had a major service, calibration and have been completely gone through. They all look and run like new, see for yourself!
---
Need to sell a machine? The Finishing Lab is happy to help!
Please email or call us and we will gladly assist you.
Please note: The Finishing Lab is only a broker and does not own this machine in any way. This machine is sold 100% AS IS. We in no way accept returns once the edger has shipped from the Finishing Lab. If the system is bought, you understand 100% what you are buying.